Welcome - and Thanks for visiting!

Please visit my NEW website at:

All new website with NO popups!!!


Welcome! to Rick Robson's Taxidermy, located in a small shop at my home in Dobson, NC. I am a full-time taxidermist and have been in this business since 1975. Although not always full-time, I have always enjoyed being a "wildlife artist". Through the many years at this hobby-turned-business, I have perfected my own style of taxidermy which has become very pleasing to my many customers.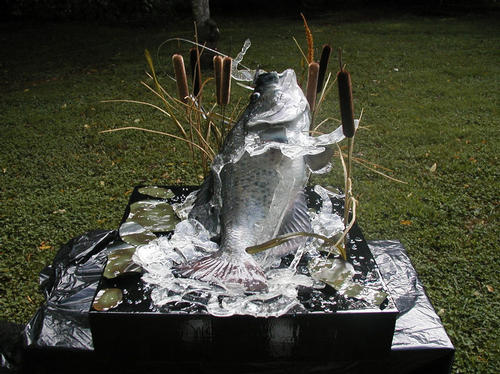 Although specializing in various mounted types of mounted wildlife, I also customize plaques by woodburning scenes on them to enhance the beauty of the mounted specimen. Ground and water scenes can also be done by request of the customer. In the following pages, examples will be shown of as many types of mounts as possible. If interested, I can
make rugs or wall-hanging from your favorite hide.
I also do repair work on older or damaged mounts;
those that are damaged within reason. Please email me if you have any questions!! Thank you!!
This is a crappie caught by Zoe Wood in a farm pond. She missed the state record by only a few ounces.
REQUIREMENTS:
All mounts are required to have a kill tag showing the kill date, state or the preserve it was taken from, and hunter's name and address.
We also require a 50% deposit on all mounts!
Send an email

All customers will be notified by phone, email or
snail mail when mount is completed. Customers will be required to pick up mounts within 60 days of completion or work becomes the property of Rick Robson's Taxidermy. NO refunds after mount has been started. Mounts will be started in the order they are received. Rush orders are available at double the regular fee (plus deposit).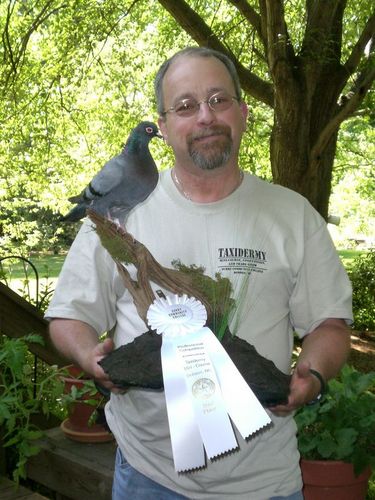 Me with my third-place pigeon from the Surry Community College Mini-Course & Competition
Send an email